Introduction to "ThumbnailCity"
How to change the thumbnails of videos on Windows.
"ThumbnailCity" is a software to specify the thumbnail of movies displaying on Windows folders as a favorite scene.
You can specify a favorite movie scene as a thumbnail in the folder. It's can for each movie files respectively.
Even if the thumbnail cache of the OS is cleared, the specified thumbnail is displayed again.
You can specify multiple images as bookmarks displayed in the folder preview.
ThumbnailCity is available in both shareware and freeware editions. The shareware edition can use for trial within 30 days. The freeware edition has no trial period, but has functional limitations.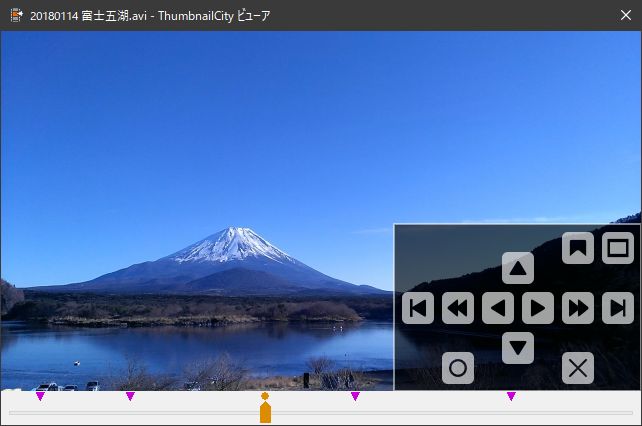 Viewer:
You can specify a thumbnail and bookmarks by the viewer which is launched from the folder's context menu.
---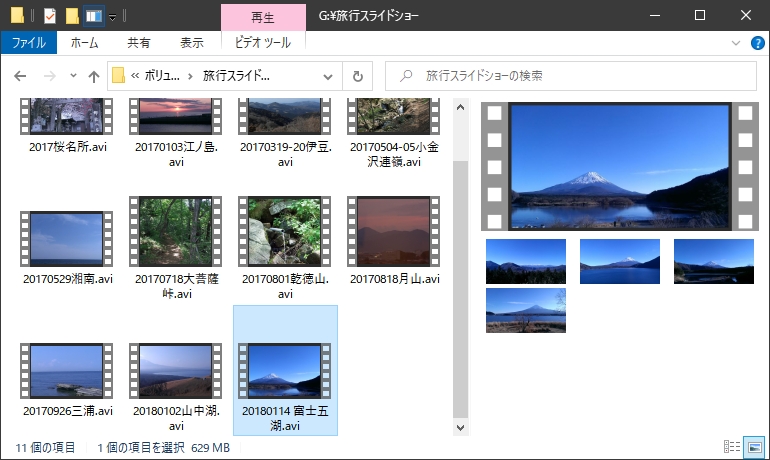 Preview pane:
You can display the specified thumbnail and bookmarks in a preview area.
---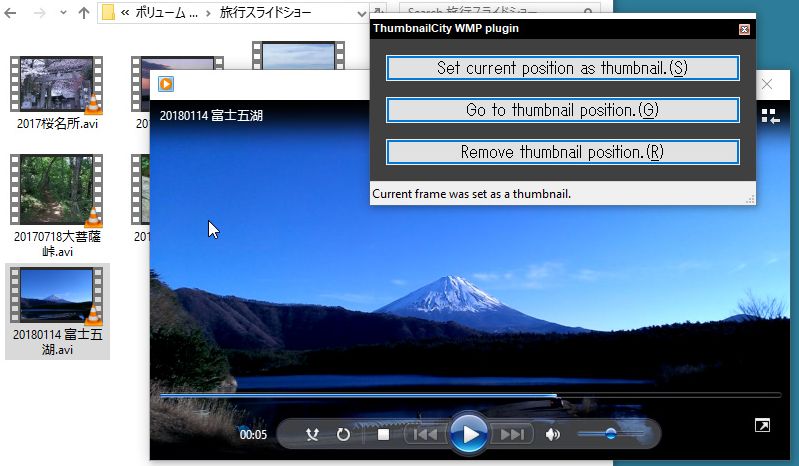 WMP-plugin:
You can specify a thumbnail of the video which is playing on Windows Media Player.
---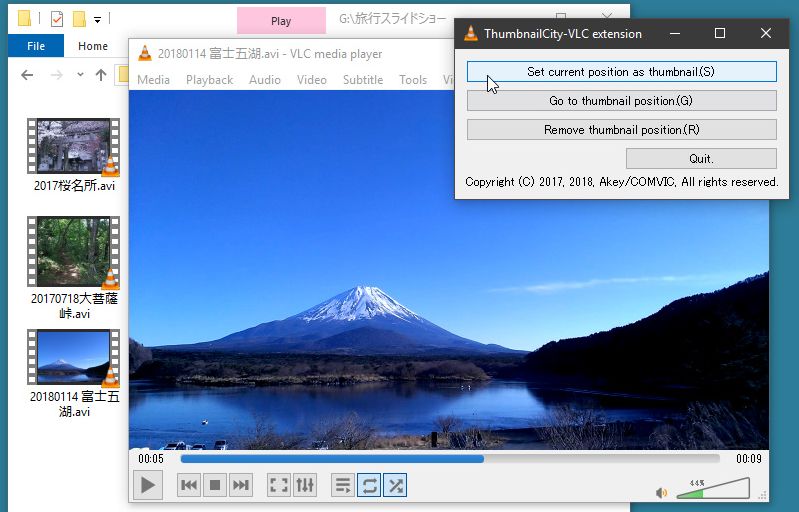 VLC extension:
You can specify a thumbnail of the video which is playing on VLC media player.
See here for a technical explanation.
Operational environment
Windows 8(32/64bit)
Windows 10(32/64bit)
– It may work on Windows 7, but it is not guaranteed.
Supported movie file extensions
3g2, 3gp, 3gp2, 3gpp, asf, avi, divx, f4v, flv, m1v, mkv, mov, mp2v, mp4, mp4v, mpe, mpeg, mpg, ogg, ogm, ogv, rm, rmvb, swf, vob, webm, wm, wmv
Functional limitations of freeware edition
The freeware edition limits the number of video files that can specify thumbnails to 30. Specifying a thumbnail beyond 30 will invalidate the oldest specification. Click here for other minor feature differences.
Restrictions
Media that stores movie files must be formatted with NTFS or ReFS.
The Adobe Flash Player plugin is required to display thumbnail of SWF files.
VLC store application is not supported.
Movies that protected by DRM(Digital Rights Management) are not supported.
Movies that can not played with Media Foundation or Direct Show are not supported. Third-party codec is required to play such a movies.
Download
Latest stable release is Version 1.2.7. You can download from links bellow. Use the same bit version as your OS.
Following is mirror site to download alternates.
Differences between Version 1.1.4 to 1.2.7
Add bookmarks feature.
Add tutorial movies.
Add "Function ON/OFF" tool.
The operation guarantee on Windows 7 has ended.
For other changes, refer to the "releaseNote.txt" included in the distribution zip.
How to purchase a license key
To use the shareware edition over 30 days, you must purchase a license key and register it to the software. You can purchase a license key from our online store at PayPal. License key can apply every version.
Detailed instruction for purchasing via PayPal is provided in this page.
---
Related pages